Editorial
No apologies for the headline. It is as nothing compared to the insult, abuse, pain and suffering meted out not only by the abuser in the dock but an entire system that failed to prevent him and it happening.
More than 180, now. That's where we got to on the count of women, athletes and others, abused by Larry Nassar, the USA Gymnastics doctor who went unchecked by guardians and leaders of sport, stretching all the way to the top Olympic table. More than 150 of Nassar's victims got to confront him in court, a rarity in legal processes and a welcome aspect of the case.
As we published this article, the bad doctor was being handed jail a  sentence of 40 to 175 years. He is destined to live out his life behind bars. Some immediately asked: is that long enough? For him, perhaps, but there's much work to be done to tackle the environment and system of governance that underpinned his criminality. And it is the latter that makes the Nassar case relevant to all Olympic sports.
Judge Rosemarie Aqualina told Nassar that he would "be in darkness the rest of his life". She added: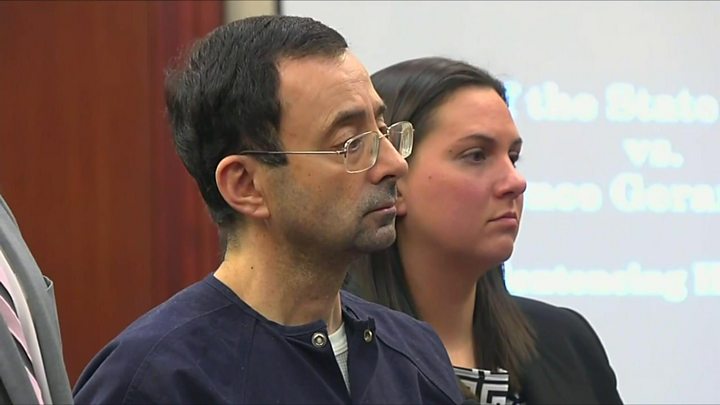 "As much as it was my honour and privilege to hear the sister survivors, it was my honour and privilege to sentence you. Because, sir, you do not deserve to walk outside of a prison ever again. You have not owned yet what you did. I wouldn't send my dogs to you, sir. I've just signed your death warrant".
Today brought the day-in-court witness statement of former national gymnastics champion and Olympic hopeful Mattie Larson, one of the last women to recall her experience during a week-long sentencing hearing for Nassar (photo above: still from the live feed of the court proceedings) on seven counts of criminal sexual conduct in the first degree.
The former USA Gymnastics and Michigan State University doctor has been accused of sexually abusing more than 140 women under the guise of medical treatment. While giving massages with one visible hand, he would use the other, concealed, hand to penetrate his victims, some even as a parent watched, unaware that abuse was taking place. His criminality was so cunning that some of the victims he groomed felt that their parents knew this was a part of the pathway to the Olympic podium and therefore they should remain silent.
Today, Larson, after breaking down but managing to get though a testimony stacked with raw truth none of us would ever wish to be a part of the lives of anyone,  stood tall at the court hearing at which she told Nassar in her concluding remarks:
"You took complete advantage of my innocence. Your kindness was simply a ploy to molest me every chance you got. I can't even put into words how much I fucking hate you."
The statement of Mattie Larson in full:
Olympic gold medallist Aly Raisman, who made her own powerful statement last week, praised Larson's courage in a tweet that read:
"You inspired me and you still do to this day. And I know SO many others are inspired by your iconic floor routines and your bravery in speaking out. You are a true role model and that is far more valuable than any medal you could ever win."
In court, Nassar is getting an earful of his own appalling history, including the below from Larson, who is working on legislation with Sen. Dianne Feinsten (D-California) that would make it a federal crime in the USA for Olympic organisations not to report child sexual abuse allegations NB: please consider adding other forms of abuse to the legislations – they exist for under-age athletes in Germany, for example, when it comes to doping – and for very good reasons well documented in history). Said Larson:
"I was at the height of my career at 19, and the Olympics were just one year away, and I couldn't take any more of the abuse. I was broken. Larry, my coaches and USA Gymnastics turned the sport I fell in love with as a kid into my personal living hell. No matter what Larry was supposed to be treating on me over the years, usually my ankles or my knees, his fingers always seemed to find their way inside of me. Never once wearing gloves."
Larson exposed to long-overdue scrutiny the culture of elite gymnastics that allowed a predator to live and even control the flock for decades. At the heart of the abuse was a training center, the Karolyi Ranch, run by USA Gymnastics trainer Debbie Van Horn, Karolyi Ranch owner Marta Karolyi and Michigan State University President Lou Anna Simon. The line is out there that USA Gymnastics made "treatment" from Nassar mandatory. Really? Without any oversight, independent or otherwise, nor system of feedback from athletes to go alongside that. When the day falls down.
The president of USA Gymnastics, Steve Penny, resigned in March 2017 after the allegations against Nassar went public. This past week, three USA Gymnastics directors resigned, and John Geddert, a former Olympic coach and close friend of Nassar, stepped down.
Before the sentencing today, Nassar was already serving 60 years in prison on child pornography charges.
How could it all have happened? Bad culture propped up by leadership models that facilitate criminality, whether intentional or not, the latter a question posed by Larson today, after other victims had done so earlier in the legal process:
"There is an eerie feeling as soon as you step onto the Karolyi Ranch. It is completely removed from all civilization. In the case of an emergency, the closest hospital is so far away you'd need to be helicoptered there. To get to the ranch, you must drive up a dirt road for what seems like an eternity. And the closest civilization is a high-security prison 30 miles away. On top of that, there's no cell service. It's completely isolated, and that is no mistake. That is how the Karolyis wanted it."
Just what such facilities say about transparency on a number of levels, including anti-doping, is a theme we will return to. Today, we hear Larson say:
"The complete detachment from the outside world, on top of careless and neglectful adults, made the ranch the perfect environment for abusers and molesters to thrive. But thanks to the women who have spoken here, that horrible place has been closed."
Turning to Marta Karolyi, Larson asked: "Marta, did you keep Larry around because he was a good doctor? Or did you really keep him around because he let us compete when we were injured and was willing to keep your secrets?"
Michigan State University head Simon has said that she learned about Nassar's abuse in 2014 when a Title IX complaint and police report were filed against "an unidentified doctor". She said she asked her team to "play it straight up" but never got a copy of the report that flowed. It was not stated whether she called for – and persistently called for – that report to be given to her.
"The complete detachment from the outside world…"
This is, of course not just about women or athletes being abused, it is a key part in a puzzle of bad culture and abuse far and wide in which men (It is largely men we are talking about) have indeed behaved as if they are completely detached from the outside world – and even intend that to be the case.
Take this filthy old boys' club, for example, as exposed by reporter Madison Marriage in the Financial Times today.
Astonishing that this still happens in 2018 but all the more so against the backdrop of #metoo and the unfolding series of scandals far and wide, Hollywood and elsewhere. Here was a men's only evening of powerful and rich businessmen – held at a time when a wave of leading figures in Britain and elsewhere in Europe (and far beyond) are on notice for a variety of offensive behaviour that in some cases stretches to the criminal – where organisers think it fine to hire women as meat for groping, with instructions attached to the women on what type of underwear, shoes (etc) they should wear in the process of ensuring that a high risk of assault awaited them at the end of the evening.
And all of that when the point of the evening was to raise funds for children suffering from cancer and other serious illnesses. The two charities that were set to benefit to the tune of 20 millions pounds have given the money back. Tragic – but the right thing to do under woeful circumstances. If it takes the abuse of women and mothers to raise funds for (their, generally speaking) children in need of life-saving treatment or hospice care for the rest of their days in a life cut short by cancer.
This is not, of course, just about the women involved and the issues women are raising, specifically and in general; it is not just about one ghastly event.
This is about bad culture that affects men far and wide, too, and prevents progress in leadership in realms beyond the ripple of swimming, gymnastics and other Olympic sports.
The truth is clear: such closed shops and clubs of discriminatory bent as that which gathered last week at London's Dorchester Hotel are all too common still – and they take many forms, including that prevalent in the running of the Olympic Movement and the federations that flow below it.
Though many a coach and club and program feels so far removed and remote from the IOC, FINA and the like, the truth is that none go unaffected by bad culture and behaviour, as anyone involved in the development of young people who took a shine to gymnastics and now know that following their dream would mean being abused and having their guardians seek to silence them when they held up their hand to say "but Miss … I don't think this should be happening?" and mostly "but Sir…I don't think this should be happening?"
Take the smutty gathering of men in powerful positions thinking they have a right to behave badly; take the culture within sports federations of in which anyone who raises a red flag is either asked to be quiet and tow the line or leave the ship, preferably by leaping into shark-invested waters of the kind likely to ensure permanent silence. The pathways may well be different but the methods of control run along extremely uncomfortable and debilitating lines.
If the men in black ties in London saw fit to join a fest of abuse behind closed doors so that they could boast of their largesse for children in need of life support, then Olympic bosses can be found boasting of their non-profit quasi-charitable status when such things are leagues away from the truth.
Men who don't behave in the ways the other men who run the show do; don't behave as though life were always led in the locker room of louts and hooligans; don't attend men-only events at which women are invited along in exchange for cash for a role as fluff and fodder for abuse. What happens to them. Well, at least some of them get blocked for promotion, blocked from the chance to progress in their careers or find their way to seats of influence.
At the heart of a dreadful idea was what you find in all such mindsets: secrecy. The hostesses being paid to be abused were told not to tell their boyfriends that it was men-only
Former politician David Meller has stepped down from his role organising the naughty bloke's bash. From the luxury good specialist Meller Group, Meller was one of two chairman of the Presidents' Club charitable trust. He also resigned from the board of the Department for Education. He has gone Many more should be falling on their swords with him.
Time to grow up, boys!
Secret worlds, bad behaviour and those whose silence opens them to accusations of complicity
Such behaviour speaks to the culture that finds coaches gathering to watch porn videos at conference and thinking that unproblematic in their 'private lives' when hours either side of such behaviour they serve as the guardians and mentors of daughters, teenage girls, with a love of swimming and often clad in skimpy suits in their presence. Any who can't see why such things add up to an environment far from what it should be need to think more deeply and outside their own box.
Coaches have been much in focus when it comes to the abuse of athletes. That story has been a round for while – and there's more to come, complete with pressure on organisations whose instinct has been to shut the truth down, not encourage it towards the light:
The change.org petition form Champion Women, led by lawyer Nancy Hogshead-Makar, the 1984 Olympic 100m freestyle champion, is backed by the following plea for signatures: 
The gymnasts have given America inspiring athletic feats… and now a front-row lesson on the trauma inflicted by sexual abuse. We cannot trust Scott Blackmun, CEO of the U.S. Olympic Committee, to protect athletes, so we're imploring you, Congress, to protect these children to enact these common sense protections. Congress should also investigate the USOC, asking how it used the USOC's legal team to ignore athlete safety, and how it muted dissent from official policy. Blackmun's signature slogan was "One Team." That slogan became a weapon to silence opposition. I've heard way too often how NGB employees were allowed to use the Amateur Sports Act to shield pedophiles; an NGB employee would say, "we can't prevent someone from making a living." Think about that. The Olympic movement thought a coach's job was more valuable than a child's innocence. Blackmun and USOC leadership did not correct them, and didn't appeal to Congress to change the Amateur Sports Act. Support our athletes in the Olympic movement … all 8 million of them, and sign this petition!
Hogshead-Makar nails the point when she links bad stuff to governance and the very, very well-paid ranks of Olympic bosses and blazers. Be it athletes rights, hosting and hosting rights, organisation of events, it is hard (if not impossible) to find examples of the IOC and member feds such as FINA forcing officials from office over their failure to take responsibility for woeful events that unfolded on their watch. Indeed, FINA honours yet Dr. Lothar Kipke, handed a criminal record 20 years ago for his role in State Plan 14:25: even his Stasi watcher registered serious concern over the brutality with which Kipke would drive syringes full of steroids into the backsides of girls as young as 13.
History is staked high with IOC and FINA officers turning a blind eye and failing to deal with abuse.
Also important to note that the vast majority of men and women out there on the pool deck are good people doing a fine job and some a very great job indeed in the learning environment. Important to note that the vast majority of folk in Olympic sport, at all levels, are not abusers.
The silence of good people and the bad apples (and those are not few, as USA Swimming's list of the banned shows) count, however. And those can be found far beyond coaching, as the Nassar case shows, doctor and an entire system of governance that has not only failed miserably to provide the required checks and balances but at times actively sought to silence those with the knowledge of kind that would remind us why checks and balances are essential and why independent oversight of Olympic sport is urgently needed.
Sex abuse, doping abuse, cover ups stretching to government level and even secret-service operations, fraud, corruption, financial kickbacks – all a part of Olympic sport. What message does it all send to "the Youth of the World" supposed to be inspired by sport and all the good things that can (and often do) flow from it?
All of which runs us along a spectrum of discrimination that ought not to be, discrimination of the kind referred to in this speech by Hogshead-Makar, who notes the importance of advocacy and legal protection:
There are common denominators in many of the stories of abuse and corruption. An obvious one is truth – and below it on the family tree of good culture, transparency.
The International Olympic Committee and its members, such as the United States Olympic Committee, the parent of the likes of USA Gymnastics, USA Swimming and so on, often boast about such things as Vision2020, the modernisation plan of the Movement's president Thomas Bach.
There are some obvious reasons to doubt the sincerity of Bach and friends. On the one hand the president is a man who talks the good talk but can be found chinking glasses with those with ultimate oversight of systematic doping (don't tell me that Russia could not solve its problem almost overnight if Mr. Putin and Co insisted) and leading officials at the IOC and FINA cited as co-conspirators in a conspiracy brought by the U.S. Justice Department (just why Herr Bach could not insist on such people stepping down from their roles pending investigations that involve international police and legal authorities is a question the IOC boss has yet to answer).
On the other hand, there are things such as this official description of the IOC itself on the end of an announcement that the foundation board of the new International Testing Agency has held its first meeting in readiness for becoming fully operational in 2018:
"The International Olympic Committee is a not-for-profit independent international organisation made up of volunteers, which is committed to building a better world through sport. It redistributes more than 90 per cent of its income to the wider sporting movement, which means that every day the equivalent of 3.4 million US dollars goes to help athletes and sports organisations at all levels around the world."
Pray let us dissect:
"a not-for-profit independent international organisation made up of volunteers"
Question: who among you out there gets paid $500 and more a day, beyond first and business-class travel, five-star hotel, all meals (and very high quality ones at that) and chauffeur-driven limo between all venues and stops, each time you opt to engage in "voluntary" work?
"building a better world through sport"
Question: what message do we receive from the IOC banning Russia from the Winter Olympics and then allowing over 300 Russian winter sportsmen and women back to the starting line in clothes that state "Olympic athlete of Russia" in response to the catastrophic findings of corruption and cheating at Sochi 2014 – events that drive a stake through the heart of trust in the Olympic movement?
"It redistributes more than 90 per cent of its income to the wider sporting movement"
Question: Surely "it" means "us, ourselves", given that the money that flows from the IOC goes to the sports federations run by … yes, that's right, the same folk we find at the top tables of the IOC"? Redistribution to ourselves would be a better description, in all honesty – and …
" … which means that every day the equivalent of 3.4 million US dollars goes to help athletes and sports organisations at all levels around the world"
Questions: Is it not the case that a great deal of that money goes to those "volunteers", some of whom pick up a per diem (after all costs have been covered) from the IOC, then an international federation, then a national OC, then a national federation?
Is it not the case that there are "volunteers" "earning" upwards of $250,000 and, in fact, much more than that, from "per diems" each year, basically for attending meetings and nodding when experts tell them how best to roll the show out in great style on the biggest competition days when the world is watching?
Is it not the case that there are world-class athletes in rich to poor countries who receive next to nothing – and sometimes nothing at all – the money in the blazer pocket reaching far further than that in the kit bags of world-class athletes?
In London far from the realm of sport at a banquet for fat-cat business folk who would like the wider world to see them as bountiful and benevolent, there is a culture waiting to come crashing down.
Snap in Olympic sport. Until the Movement, top to bottom, undergoes truly independent review (the world independent may well have been understood by the Olympic Movement but only, one might well argue, in the way that a rogue doctor understands the term 'anti-doping') and accepts truly independent checks and balances, the events that unfolded in German courts in the late 1990s, those unfolding now in the United States, will continue to find a home in sport.
Regardless of where we should and must place first-line blame of the kind that belongs to Nassar and the like, the Omertà of leaders and the silence of those who ought to speak up for athletes even when to do so could mean expulsion from privilege is a key part of the bad culture underpinning abuse in sport.