Livermore, CA (December 5, 2017) – FINIS, Inc., the technical swim equipment maker that has built a reputation for innovation fit for use across a range of skills and talents in the worldwide community, has launched its latest competition suit, the Rival.
FINIS collaborated with some of the fastest swimmers in the world, including Anthony Ervin, James Guy, and Olivia Smoliga.
Guy, the 2015 World 200m freestyle champion and 2016 Olympic silver medallist in the Great Britain 4x200m free and 4x100m medley relay – the latter making him the last swimmer ever to race stroke for stroke down an Olympic pool with Michael Phelps, on butterfly – said of the Rival:
"It's locked in. When you're swimming it feels nice and tight in the water. Your legs feel like they are literally floating and gliding across the water." 
With the development of Rival, FINIS CEO John Mix tasked his team with creating a premium tech suit, free from marketing jargon and high-tech terms that leave swimmers, coaches, and parents feeling confused.
Say makers: "Most swimmers and coaches know that tech suits are made using a few main principles: compression, fabric choice, seam structure and water repellency. In a true FINIS fashion, the team wanted to put a unique and innovative twist on their design, and they knew it had to start with the athletes."
"The result: a suit that locks and lifts the hips into perfect body alignment. Using an innovative seam pattern that wraps from the front of the hips to the back, the swimmer will feel locked into position as soon as they dive into the water.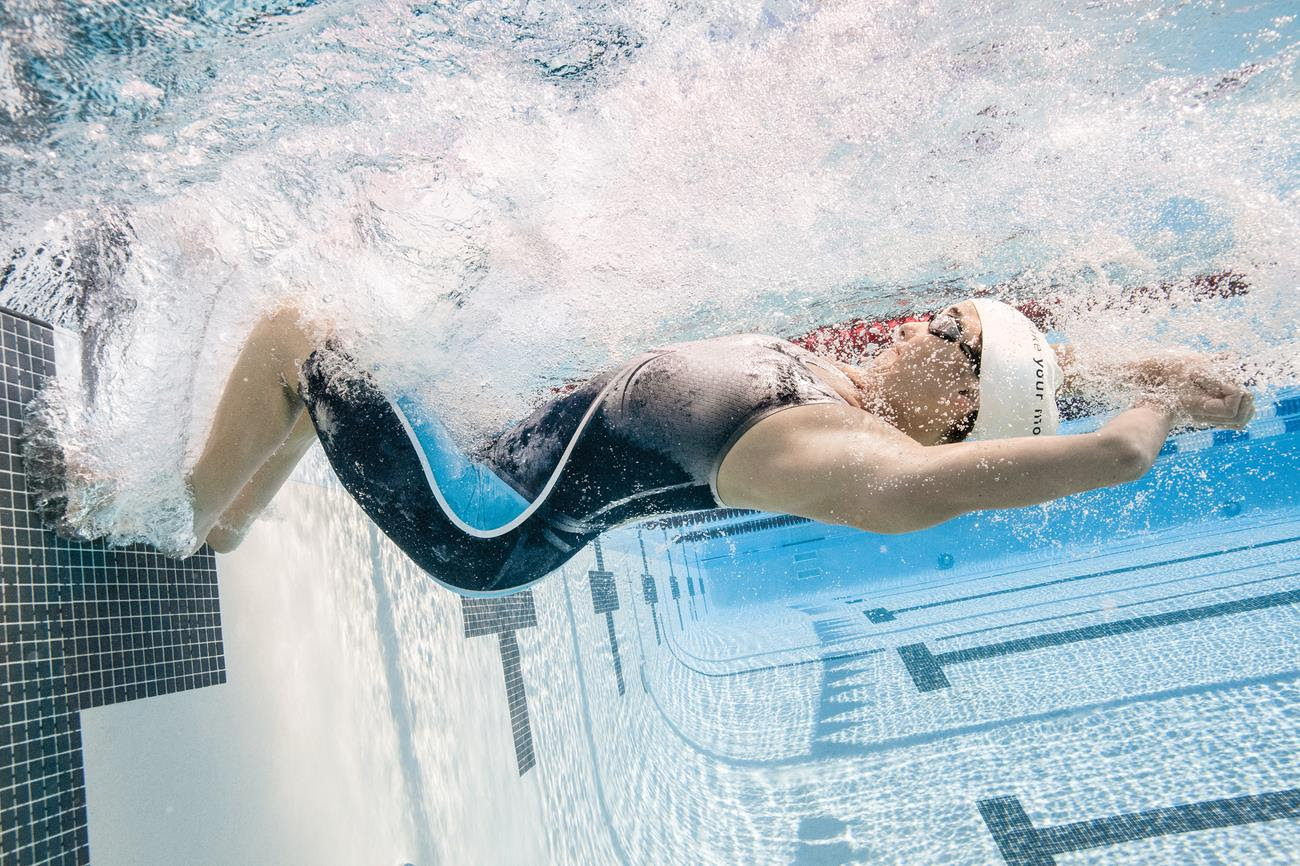 The suit is made of two different fabrics.
Says FINIS: "A one-way stretch fabric is used to increase compression by limiting stretch in one direction. This is placed on flatter areas of the body that need the most compression – like the inner legs. It has a smooth surface, which means less friction and drag.
"The two-way stretch fabric allows range of motion by stretching equally in both directions. It is applied to curved areas of the body – like the chest and butt. It has a textured surface, which means water can move freely without breaking flow.
"So yes, two fabrics are better than one. These fabrics work together to support the body and enable muscle efficiency. If you love that + seams that pull you into perfect body alignment + water repellency and all that good stuff, this is the suit for you!"
"The amount of work that went into creating this suit was phenomenal and the end goal was rather simple – to create a fast suit that swimmers would enjoy wearing." – John Mix, FINIS Co-founder and CEO
Want to find out more about this awesome new suit? Click here!
…and better yet, want to win one!? Check out the Rival Sweepstakes
FINIS is giving away 15 suits, and there are ways to increase your chances of being one of the lucky winners!